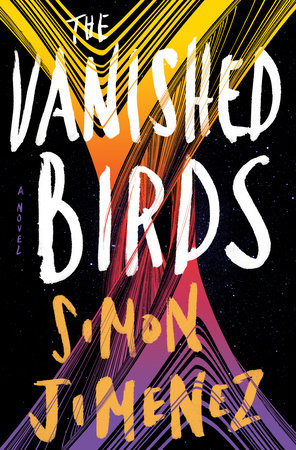 Please join us in congratulating Simon Jimenez on the publication of his debut literary science fiction novel, THE VANISHED BIRDS, which has received starred reviews from Kirkus, Publisher's Weekly, Bookpage, and more!
About the Book:
"The best of what science fiction can be: a thought-provoking, heartrending story about the choices that define our lives."—Kirkus Reviews (starred review)
A solitary ship captain, drifting through time.
Nia Imani is a woman out of place. Traveling through the stars condenses decades into mere months for her, though the years continue to march steadily onward for everyone she has ever known. Her friends and lovers have aged past her. She lives only for the next paycheck, until the day she meets a mysterious boy, fallen from the sky.

A mute child, burdened with unimaginable power.
The scarred boy does not speak, his only form of communication the haunting music he plays on an old wooden flute. Captured by his songs and otherworldly nature, Nia decides to take the boy in to live amongst her crew. Soon, these two outsiders discover in each other the things they lack. For him, a home, a place of love and safety. For her, an anchor to the world outside of herself. For both of them, a family. But Nia is not the only one who wants the boy.
A millennia-old woman, poised to burn down the future.
Fumiko Nakajima designed the ships that allowed humanity to flee a dying Earth. One thousand years later, she now regrets what she has done in the name of progress. When chance brings Fumiko, Nia, and the child together, she recognizes the potential of his gifts, and what will happen if the ruling powers discover him. So she sends the pair to the distant corners of space to hide them as she crafts a plan to redeem her old mistakes.
But time is running out. The past hungers for the boy, and when it catches up, it threatens to tear this makeshift family apart.
Learn more about Simon's books on his website: http://SimonJimenezAuthor.com